Coming up in the Australian AgContractor and Large Scale Farmer (AACLSF) magazine September/October 2022 edition.
VENUS PACKAGING
True to its reputation for leading the way, Venus Packaging has released its strongest ever big square baler twine. Venus Red Force+ meets the rigorous demands of the highest density balers.
Field testing in late 2019 showed that Red Force+ has an average knot strength of 350 kgf, and is an easy match for the harshest and most densely-baled crops.
Red Force+ is made from polypropylene polymers specifically formulated to produce a soft, highly-fibrillated and UV-stabilised twine. Each two spool pack contains 1936m.
This season Venus is adding a new German made silage film under the Osprey brand. This is a 5 layer 25 micron green film.
Another relative newcomer in the Venus range is Venuspower XL silage film.
Venuspower XL comes on extra-length 1650m rolls, which are popular because more bales can be wrapped before changeover. The seven layer green film is 750 mm wide and 22 microns thick.
Standard Venuspower silage film is 1500m long. This five layer black film is 750 mm wide and 25 microns thick.
Both versions of Venuspower are European-made and give 55-70 percent stretch. They are UV stabilised to suit Australian conditions up to 180 kly for a minimum of 12 months.
High tack ensures an air-tight seal with minimal tails. High impact strength prevents damage during wrapping, handling and storage, and high tear resistance reduces the risk of breaks on high-speed balers.
The other well established Venus silage films are Powerstretch and Powerstretch XL.
Last season Venus also released its high-tack silage repair tape. It creates an air-tight seal over small tears and punctures to prevent costly crop spoilage. The UV stabilised tape is 140 micron thick in 25m x 96 mm wide rolls. A counter display pack contains 12 rolls in green or black.
TOTALCOVER NETWRAP
Totalcover Pro with distinctive green and orange selvedge is the latest addition to the Totalcover netwrap range. It comes in weights of 11 and 12.3 gm/linear metre with tensile strengths of 260 to 280 kgf and 290 to 310 kgf.
The Totalcover range already includes weights of 12, 13 and 14 gm with tensile strengths of 290, 310 and 330 kgf, and Totalcover Gold 11 is gm with a tensile strength of 270 kgf. Economically-priced Totalcover Gold is often chosen for baling silage before wrapping.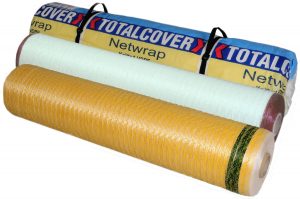 The range also includes Totalcover 42 and 44 chain, which with its strong but lightweight construction can be used where a heavier netwrap would normally be needed.
For example, 1.23m wide, 10 gm Totalcover is 42 chain and has 260-280 kgf break force. It can be used wherever 11 or 12 gm netwrap would normally be used. This means real savings for farmers and contractors.
Totalcover is well known for producing secure, well-formed bales with coverage right to the edge on 1.23m wide bales and over the edge on 1.3m wide bales. All variations are UV stabilised for 12 months.
Venus Packaging also markets silage pit covers plus an extensive range of baler twines for all types of big square, small square and round bales.