We supply one of Australia's broadest ranges of adhesive tapes including high quality gaffer (cloth) tapes, electrical tapes, 100% recyclable paper tapes, cross weave filament tapes, masking tapes, PVC and packaging tapes (including printed and warning tapes).  Our staff can advise on the best taping solution for your business. Browse our range of adhesive tapes below.
One of our more popular and versatile products. Our Cloth Tape range includes both polythene coated polyester/cotton and polythene coated rayon, with either a natural rubber adhesive or rubber solvent adhesive. Our
...Read More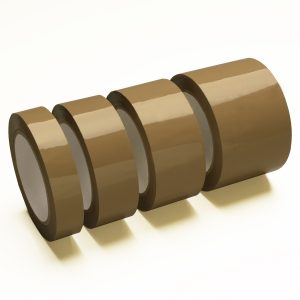 Our Packaging Tape range includes a broad range of tapes for multiple applications. The range includes PVC tape, PP tape, and polypropylene tape with natural or rubber solvent adhesive. Our popular C20
...Read More
Water-activated tape, or gummed paper tape as it is sometimes known, is most commonly used for carton closing applications. Our gummed paper tapes are environmentally friendly, non-toxic and odourless (as they are
...Read More
Our strapping tape and filament tapes, offering high tensile strength, can be used for a variety of applications such as bundling, palletising, securing, and reinforcing. Our strapping tape is heavy-duty and can
...Read More
With a range of different applications, our masking tape is available in a variety of widths and lengths to suit your individual needs.
...Read More
Double-sided tapes are used in a wide range of industries and applications and is an effective method for bonding or adhering two objects together. Double-Sided Tape adheres to most surface types, including
...Read More
We have been customising and printing tapes for customers for over 35 years. Custom printed tapes can include your business name, logo and any other details. Printed tapes, used to seal cartons,
...Read More
We have a range of Anti-Slip Tapes with sandgrit surface with acrylic solvent adhesive. Our Anti-slip tape is suitable for applications such as industrial & commercial sites, stairs, wet factory floors and
...Read More
Our stationery tape range include cellulose and mending tape, generally used in day-to-day applications, packing benches and retail/office environments.
...Read More
Our Venhart electrical tape is made from plasticized PVC with rubber solvent designed for a a range of applications including electrical insulation, sealing and bundling. Our duct tape is constructed of plasticized ...Read More
Foam tapes, available in double-sided, single-sided, power pads and strip adhesive.
...Read More